A boudoir photoshoot to help you:
STEP INTO YOUR POWER.
EMBODY YOUR ESSENCE.
REDEFINE YOUR NARRATIVE.
"This is a reclamation. A defiant cry to those who took control of you. A rejection of that which told you, 'You're not enough. Be more of this. Hold that part back. Don't be too much'.

This is a reclamation. A call to embody your soul level self. A chance to lean in. A beckoning to become the brightest version of You.

This is a reclamation. For your fears to be your fuel, not the means to keep you fettered. To brighten the world with your limitless luminosity. To march onward into love.

This is a reclamation. To amend the ways you wronged yourself. To say, 'I am enough. I am worthy. I deserve not better, but exemplary. This is the precedent I set, and I choose me'."
This is your reclamation.
How does it work?
EVERY BOUDOIR SHOOT INCLUDES:
✓ Planning + Design Session
✓ 90 Minute Boudoir Photo Shoot
✓ Up to 3 outfit changes
✓ Expert posing + direction through entire session
✓ Image Reveal + Ordering Session
✓ 16 digital images
After a 12 year eating disorder nearly made me a statistic, I dove into a journey of self love to transform myself, and reclaim my life.
After spending thousands of hours, and almost $50k on my journey, I beat the odds, and made a full recovery. Along the way I found my passion in life for helping women to heal their relationship with themselves, their bodies, and learn to love who they are at the core.
To celebrate my own transformation, reclamation, and dedication to my recovery, I chose to have boudoir photoshoot, and this moment completely shifted how I saw my body, and myself.
So for my 8th recovery anniversary, I want to celebrate with you!
I am opening up the boudoir photoshoot sessions known as Reclamation Series to a small handful of women.
Why? Because I know how significant a boudoir photoshoot was in my own healing journey, in me regaining my sense of self, and it's an experience that more women need to be able to have.
If you are looking for a way to reconnect with yourself, to step into your power, to embody your feminine essence, and to redefine your narrative - you've found it. The gorgeous photos that you get to keep are the icing on the cake.
You ready? Then let's do this.
The Reclamation Series
What to expect:
↠ SELECT YOUR VIBE - Select a style to best suit the vibe, feeling, and emotions you'd like to evoke, and connect with. This will also direct the location we choose for your photoshoot.

↠ PLANNING + DESIGN SESSION - We'll plan and design your entire photoshoot together! We'll chat outfits, what to expect, posing, and more. This time provides you the opportunity to the perfect way to make sure you feel relaxed, prepared, and know you will get the exact images you want - and some you didn't realize you needed.

↠ 90 MINUTE PHOTOSHOOT - Your photoshoot with me is fully directed, and guided! You won't have to worry or wonder about how to pose, where to look, what expression to make, or what to do with your hands. I'll be there to walk you through the entire shoot, and capture photographs of you that you will cherish for the rest of your life.

↠ 3 OUTFIT CHANGES - Why multiple outfits? Because no woman can be summed up by a single outfit. Bring your favourite outfits to help you further embody the version of yourself you know you're called to be.

↠ IN-PERSON IMAGE REVEAL + ORDERING SESSION - This luxurious feature allows you to soak up the experience of seeing your images the same day their taken, and relax knowing you have expert on hand to help you out every step of the way.

↠ INCLUDES 16 DIGITAL IMAGES - Select your favourite 16 images that best reflect you, and allow you to reconnect with the the experience, and feelings of it all for the rest of your life.
"I am so grateful that Chelsey is doing this work. It was incredibly healing and helped me to embrace my unique beauty and body. I highly recommend it for any woman that has suffered through any form of negative body image and as part of a path to acceptance and self-love."
It's time for your Reclamation if…
✓ You have believed and worried that you're too much, not enough, or even a combination of the both at the same time.

✓ You're done with believing that you're a victim of circumstance, and are ready to reclaim your narrative.

✓ You've hidden your body, and feminine energy away to feel safe.

✓ You're ready to reconnect with yourself, and your body.

✓ You can't wait to finally unleash yourself from the stories you've bought into about who you are, and the role you're 'meant to be filling' in the world.

✓ You're done with letting your fears keep you small, and are instead wanting to lean in to the fullest expression of who you are.

✓ You are ready to forgive yourself for the past, and see yourself through a lens of love, and non-judgement.

✓ You long to have a soul sister who actually "gets" what it's like to walk this path of healing, and been able to shift it within themselves first.

✓ You desire a one-of-a-kind experience to help you embody the Goddess you are.
"After much resistance, I finally did a boudoir shoot with the incredible Chelsey Luren Dixon to allow myself to really step into my feminine and love my body throughout this entire process. I felt so alive and connected. The whole experience was healing and brought me into an even heightened state of self love and body love.... Go feel what it feels like to fall back in love with yourself and bring yourself back to your body."
- Samantha Skelly, Founder of Hungry for Happiness
"It's a such wonderful environment to be in because you leave the photo shoot feeling confident, sexy and just happy. I can't thank you enough for making my first boudoir session so empowering. I'm glad to have taken the leap and can't wait to do more in the future!"
- Hilda K.
"When Chelsey showed me my photos in the viewing session, I cried. I saw something in those photos that I hadn't seen before: beauty and grace and elegance and strength.
Chelsey showed me a part of myself I hadn't allowed myself to see before, which was a big turning point for me.
I was really nervous and... I think I was worried that Chelsey wouldn't get any good images, that I hadn't chosen suitable outfits, and that I would only see what I think are flaws. Chelsey made the session so easy and coached me through the whole process, and the result was beautiful images!"
- Nicole: Mother, Wife, Teacher + Survivor
"I learned a lot through doing this photo shoot... Having someone there with me to coach me through and help me discover the things I love about myself and discover how to interpret those things to the camera was empowering. ... It's not simply a matter of "if" a session is right for you, but also a matter of "when" and that's something only you can know for yourself."
- Lauren Bersaglio: Survivor + Founder of Libero Magazine
Value + Investment
Let's break it down
✓ Planning + Design Session
✓ 90 Minute Boudoir Photo Shoot
✓ Up to 3 outfit changes
✓ Expert posing + direction through entire session
✓ Image Reveal + Ordering Session
Value: $400
✓ 16 digital images
Value: $2000
"I'VE NEVER DONE THIS BEFORE"
And neither had the vast majority of the women I've worked with in the past! You don't have to know what to do, that's why you hire an expert.

I will guide your through your entire experience, hold space in whatever comes up for you, and direct you through everything that happens on camera. I'm here to be your Photographer, Direction, Soul Sister, and Confidante through this incredible and empowering experience. I've got you, and you've absolutely got this.
"I'M scared to do this shoot"
As someone who spent 12 years consumed by the shame, guilt, self hate of an eating disorder, and body image issues - I get it. This healing work can be downright terrifying to dive into.

Know this: This is a judgement-free zone. It is 100% safe to be seen, heard, and for your truths to be shared in the confines of this space. Anything you choose to express within the sanctity of your Reclamation is kept private. Nothing is shared unless I am given written permission by you first.
"I don't have the money"
If you're ready to reclaim yourself - the woman you know you're called to be at the core - and you're looking for a safe space to do it, then you can't afford not to.
The best investment you can make in life - and the one with the best return - is the one that you make in yourself. If you aren't willing to believe that, then I'm probably not the boudoir photographer for you.
However, if you get how important investing in yourself is, and you're trying to figure out how to make it happen, let me know, and together we'll find a way to make this work for you!
"I DON'T HAVE THE TIME"
Question: How much of your time is wasted daily on hating your body, feeling disconnected from yourself, and not having the confidence to chase your dreams?

Imagine having all of that time, and mental space made available to you by having your focus shifted by moving you into deeper self love!
If you value your time, the healing work of reclaiming yourself, your femininity, your narrative, and more is one of the most productive things you can do.
+ Where do sessions take place?
Once your Reclamation photoshoot has been booked, a selection of locations will be provided to you. These are provided to best suit the vibe that you would like to embody.
+ I've never done this before, will you help me prepare?
Absolutely! Each of the Reclamation boudoir sessions includes a Planning + Design Session to plan outfits, specific poses you want, answer any questions you have, and more.
+ DO YOU PROVIDE MY WARDROBE?
There are a few pieces available at our studio. However since all women are different shapes and sizes, I cannot guarantee the sizing of the pieces. I encourage my clients to take this opportunity to find outfits that you feel incredible in. The more effort you put into your outfits, the more amazing your images will turn out.
+ HOW DO I KNOW THIS IS RIGHT FOR ME?
Here's the truth: Only YOU know if the Reclamation Series is right for YOU. If in your heart you know the answer is a full-body "YES!", then it's time to leave behind what your fear is saying to you. I'm here to witness you in this journey, hold space for you in it, and help you lean in further.
+ Can I add hair + makeup to my session?
Absolutely! This can be added to your session for $115. It's the perfect way for you to relax knowing that you'll be camera ready when the time for the shoot comes.
+ When will I get to see my images?
Your Image Reveal + Ordering Session will be scheduled 1-2 weeks after your photoshoot. Your 12 images will be selected at this time, and you will recieve a copy of your selections shortly after.
+ How will my images be used?
I never share any images without you giving me permission first in writing! All of the women featured in my work have given written consent to share their images.
+ What if I want more images, or other products?
I have a selection of products (such as albums, canvases and more) that are available for purchase if you'd like anything in addition to your included images.
+ I have more Q'S!
Awesome! I'd love to chat to make sure the Reclamation Series is right for you, and set your mind at ease! Head here to apply and set up a time for us to chat, and let's connect!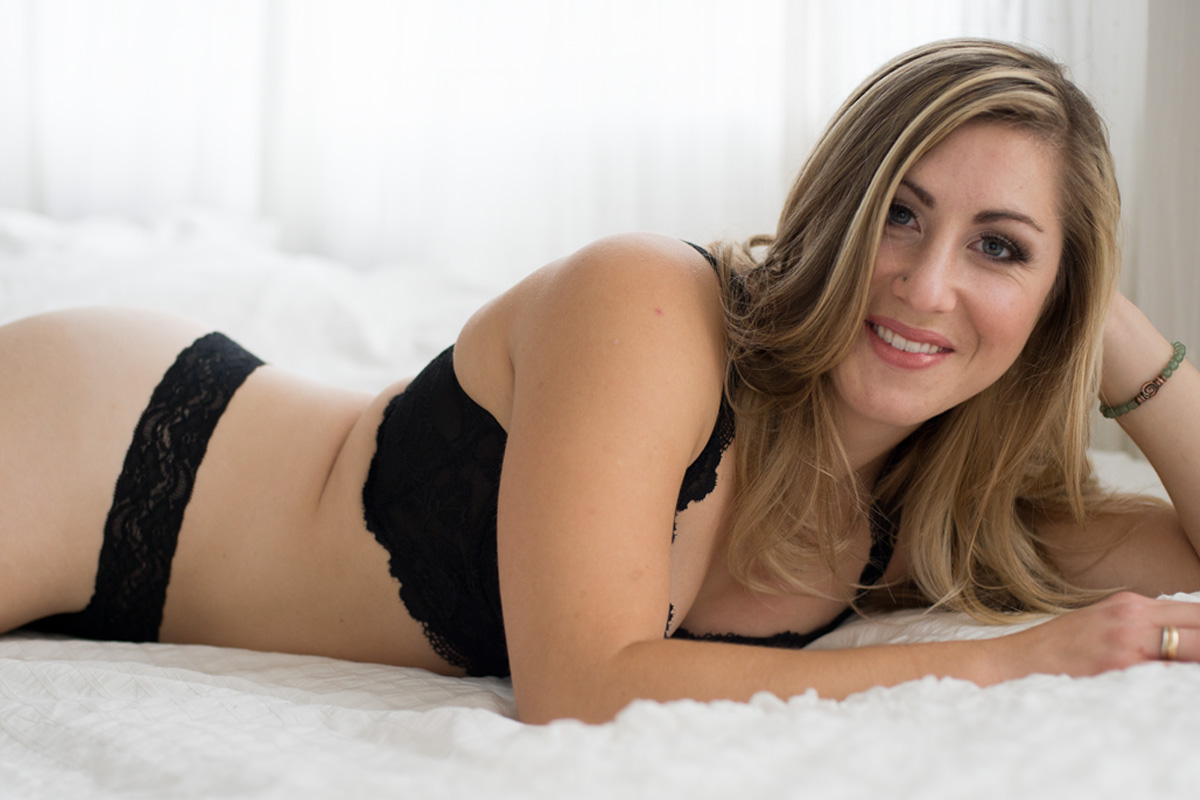 "I remember a specific moment in the session when Chelsey showed me one of the photos she took, and I began to cry – in that moment, I think it was the first time in a long while I saw myself as beautiful."
Only YOU know if the Reclamation Series is right for YOU.
If in your heart you know the answer is a full-body "YES!", then it's time to leave behind what your fear is saying to you.
I'm here to witness you in this journey, hold space for you in it, and help you lean in further.
Are you ready to reclaim yourself?