How will your life transform when...
you feel connected YOUR BODY.
+
you are EMPOWERED in your life.
+
YOU are CONFIDENT.
+
you have THE BEST PORTRAITS YOU'VE EVER SEEN OF YOURSELF TO PROVE IT.
Signature Boudoir Sessions
this is A BOUDOIR PHOTOSHOOT EXPERIENCE DESIGNED WITH SELF LOVE, BODY POSITIVITY, AND WOMEN'S EMPOWERMENT AT THE FOREFRONT.
How does it work?
Every boudoir shoot includes:
✓ Photoshoot Design Session
✓ Professional Hair + Makeup
✓ 90 Minute Boudoir Photo Shoot
✓ Expert posing + direction through entire session
✓ Image Reveal + Purchasing Session
TOP VANCOUVER BOUDOIR PHOTOGRAPHY BY BOUDOIR PHOTOGRAPHER CHELSEY LUREN PORTRAITS
Boudoir photo shoots in Vancouver by boudoir expert photographer Chelsey Luren Dixon of Chelsey Luren Portraits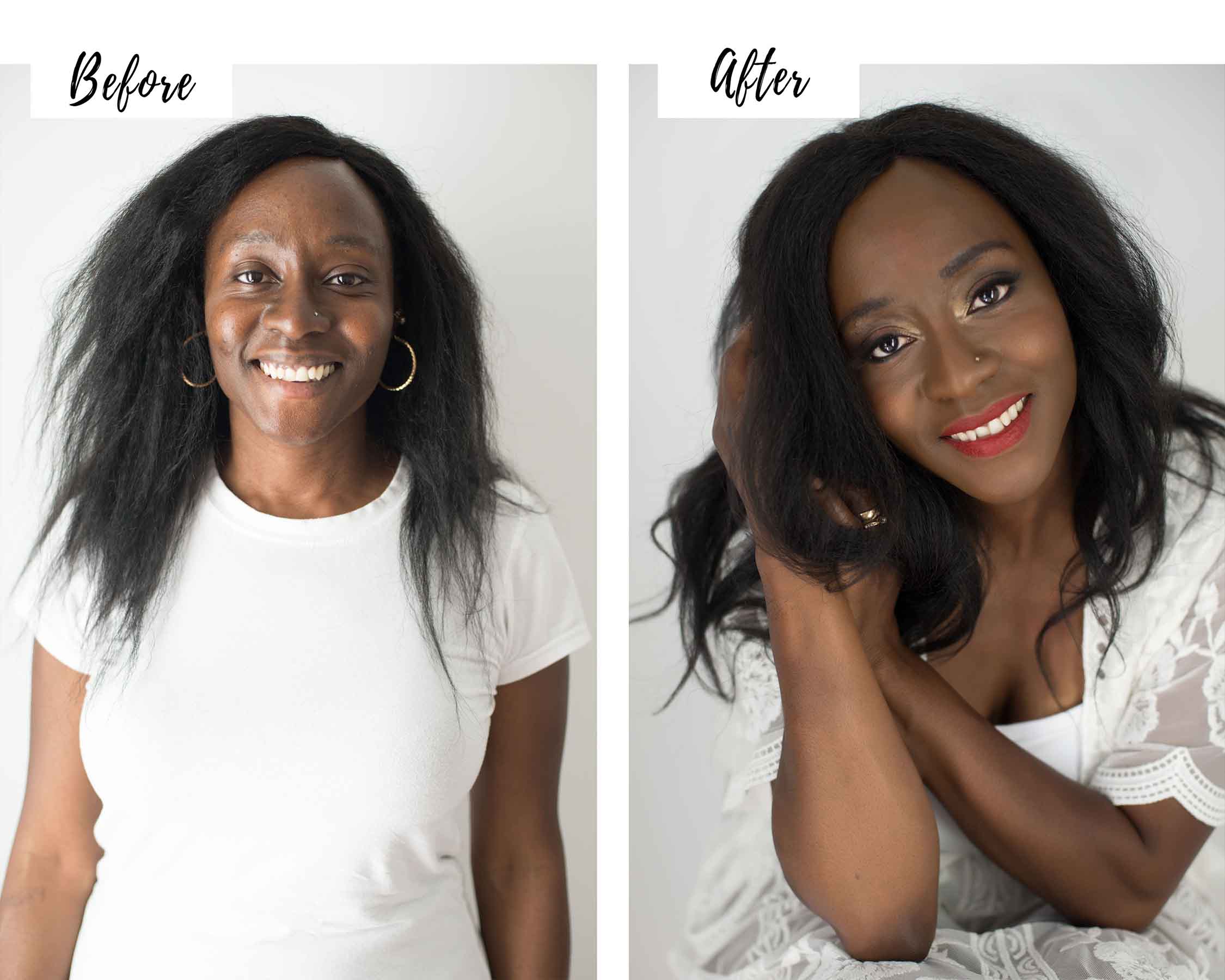 It's time to reconnect with your body, feel more confident, and have gorgeous portraits to reflect that.
Ready to join me?
>
Need proof it's that good?
↓ HERE'S WHAT CLIENTS HAVE SAID ↓
Still unsure?
THIS SHOOT IS FOR YOU, EVEN IF YOUR MIND IS SHOUTING:
"I don't have the time"
How much of your time is wasted feeling unconfident, and bashing your body?
Imagine all that time, and mental space made available to you by having an experience focused solely on moving you into deeper self love!
If you've spent too much time fighting that battle with yourself, then consider this your call to finally feel free.
"I can't afford it"
If you are ready to move closer to self love - then you can't afford not to.
The best (and longest lasting) investment you can make in life, is the one in yourself. If you don't believe that, then I'm probably not the photographer for you.
I work with clients with all budgets, I accept credit cards, and offer payment plans to match their needs.
"I don't like being photographed"
I promise that I will help you feel more comfortable than you could ever imagine during your photoshoot.
Not only that, but we'll have a ton of fun, connect through real conversation, and more than likely, laugh a ton - all while creating the best photographs you've ever seen of yourself.
If you don't love your experience, simply let me know before you come in to view your images and I'll happily refund your session fee.
"I'm not photogenic"
Here's a little secret: There's no such thing as 'photogenic'.
How your images turn out is a result of your photographer, the direction they give, and how comfortable you are with them. My role as photographer is to direct you each and every step of the way.
You won't be left to wonder if you're doing anything right, or what to do, I'm here to help you along so that way you absolutely knock it out of the park. You've got this.
"I've never done this before"
The vast majority of the women I photograph - roughly 95% of them - haven't either. And that's why I know you'll love this experience and your photographs - because they did too.
I will guide, direct, pose, and walk you through everything you need to know, and then some. I'm here to help you feel like the most incredible version of yourself, because that's the only version of you I see from the moment we meet.
"I need to lose weight first"
Let me give it to you straight... your weight and body shape will not dictate or influence your experience.
I create photographs that my clients love regardless of their shape, size, age or any other external factor - and I will do the same with you, exactly as you are, right this moment.
My studio is a safe, body positive space, free from judgement. So that you can be the most vibrant + alive version of yourself. That is what my camera captures.
Are you really willing to settle for lacklustre confidence, feeling disempowered, or being disconnected from your body any longer?
Do you find yourself thinking...
"I want to embrace my unique beauty, and feel incredible as I am, right now."

"I want to experience deeper self care, and continue my self love journey."

"I dream of feeling confident, beautiful, and empowered in my life."

"I'm ready to reconnect with my body, and heal my relationship with myself."

"I'm excited to feel incredible in photographs, and have gorgeous ones to prove it!"
The Signature Boudoir Sessions were designed for women like you!
Hey, I'm Chelsey!

Having experienced a decade long eating disorder, I'm intimately familiar with the full spectrum of body image struggles and concerns. Been there, done that, got the ratty t-shirt.

Seven years ago I embarked on a journey of recovery, and fully healed the relationship I had with myself, and my body. This transformation is the foundation of my life's mission of helping women to:

HEAL THEIR RELATIONSHIP WITH THEMSELVES THROUGH BOUDOIR PHOTOGRAPHY + BODY IMAGE COACHING

With my self love journey marking the path, the photoshoot experience I have carefully crafted provides the safe space you need in order to reconnect with the woman you've always been:

CONFIDENT. EMPOWERED. SENSUAL. VIBRANT. CONNECTED.

You're beautiful. Let me help you feel it.

XOXO, Chelsey
Reconnect to YOUR BODY.
+
enter an EMPOWERED state.
+
feel CONFIDENT.
+
have THE BEST PORTRAITS YOU'VE EVER SEEN OF YOURSELF.
=
your signature boudoir session
Satisfaction Guaranteed
I know you're going to love your photoshoot experience! But if for any reason you don't have an incredible experience with me, I will refund you your entire Signature Boudoir Session fee.
+ Where are you located?
My studio is based in Vancouver at 1180 E. Hastings St, and I am available for travel worldwide.

+ I've never done this before. Will you help me prepare?
Absolutely! Every single Signature Boudoir Session includes a Design Session to plan outfits, makeup, hair styling and answer any questions you have.
+ How will my images be used?
I never share any images without you giving me permission first in writing! All of the women featured in my work have given written consent to share their images.
+ What's your turn around time?
I recommend having your shoot a minimum of 4 weeks before the date you need your art by.
I have been able to accommodate a much faster turnaround time - as fast as 2 weeks from shoot till the date the products are in your hand. So if you need a rush, please get in touch and I'll do my best!
+ When will I get to see my portraits?
Your Image Reveal and Purchasing Session will be scheduled 1-2 weeks after your photoshoot.
You can relax and enjoy yourself fully while selecting your favourite portraits and the best medium to preserve your custom fine art knowing that you've got expert advice right on hand.
+ What sort of products do you offer?
The Digital Image Collections are the most popular option that clients purchase. Albums, canvases, as well as a beautiful leather folio box are also available for purchase at your Image Reveal and Purchasing Session.
+ Do you offer payment plans?
Yes, flexible payment plans to meet all budgets are available.
+ Do you accept credit cards?
Yes, all major credit cards are accepted.
+ I have more questions!
I'm happy to answer any and all questions you have. Head here to book your free consultation!
Are you ready to finally:

Reconnect with your body, to feel more confident, AND have gorgeous portraits to cherish for the rest of your life?
 
Then it's time to say yes to yourself and the boudoir photoshoot you truly deserve.