Eating Disorder Recovery Photoshoot | Nicole Testimonial
To anybody that has been following my work for any length of time (and to let those who haven't know), my greatest passion lies in working with women who are healing their relationship to their bodies. Those who have recovered from an eating disorder, have struggled with body image issues, or are shifting their relationship to food hold a special place in my heart.
As someone who spent close to a decade in the throws of an eating disorder before choosing recovery, I have so much empathy for these incredibly beautiful women.
There is such an intense degree of strength, effort, commitment and a thousand other characteristics needed on the path to healthy self image. Being able to reflect that same strength and beauty back to my Recovery Session clients within their photoshoots here at Chelsey Luren Portraits is overwhelming.
My heart nearly bursts when I reflect on all of the women I have had the opportunity to work with.
This next warrior I am excited to feature is such a gem.
I am so ecstatic to introduce Nicole Calla to all of you. She shares words about her own Recovery Session, and some of the images we created together - to be honest, there are no words to describe how in awe of her I am.
So without further ado, here is the Chelsey Luren Portraits interview with Nicole about her glamour session with us!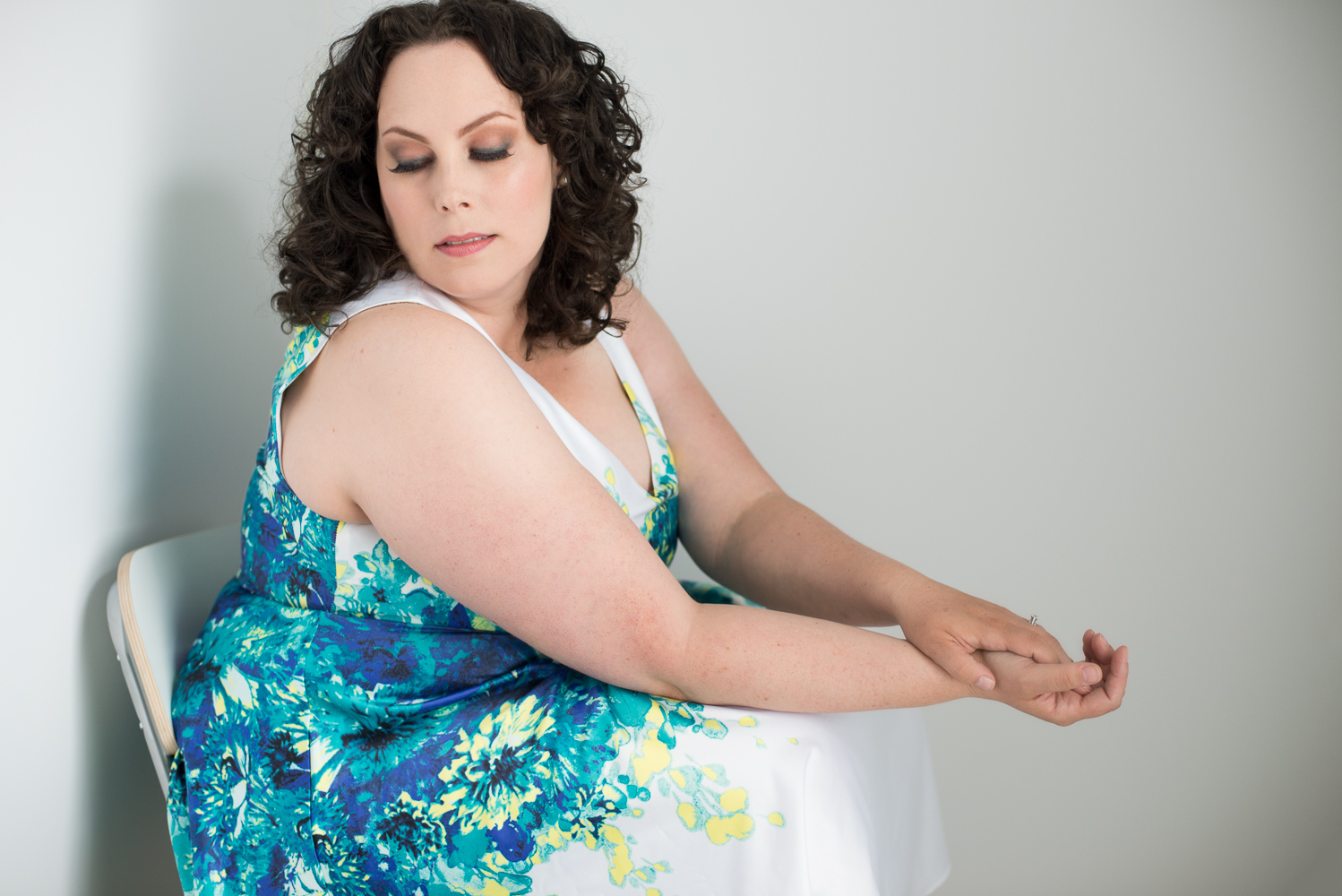 Chelsey Luren Portraits (CLP): Tell us a bit about yourself!
Nicole Calla (NC): I am a 33 year old mom, wife, teacher, sister, best friend, creative, traveler, book lover, chai latte drinker, and British period drama fanatic. Sometimes I play at being a dancer and a yogi.
CLP: Can you tell us a bit about your ED history?
NC: My disordered eating started when I was in Grade 3 after some traumatic experiences in my life. I started to deal with my negative emotions through my eating disorder to the point where by the time I was in Grade 7, I was obsessed with food.
I was always fairly mature and self-aware for my age, and even though I understood that my behaviours were not healthy, I didn't have another outlet to deal with all my emotions. During that time, I was also bullied terribly at school and I believed that I wasn't good enough for anything.
My disordered eating continued through high school, and with it, the shame I felt for behaviours I felt I couldn't control. It wasn't until I was in my early 20s that I was diagnosed with depression, and while I did start to develop some healthy behaviours around food as I dealt with the depression, my eating disorder continues to be a struggle for me.
CLP: What was the turning point in your choosing recovery - what made you decide that you wanted recovery?
NC: I don't think there has been any one point that stands out from another in terms of a recovery turning point, though I have noticed that when I'm in a good place in terms of my mental health, my disordered eating isn't as bad.
I've tried many self-help strategies, various counsellors, and different programs in my recovery journey, but I think the biggest impact has been my work with Samantha Skelly of Hungry for Happiness. Through this work, I've gotten to the core of my disordered eating. I've had some set backs in the last few months and I'm working towards creating healthy behaviours again.
CLP: Is there one word that represents what eating disorder recovery means to you?
NC: The word that keeps coming up for me is ease. I want to feel ease in my everyday life, where making choices about food and my body is just intuitive. For me, ease is the opposite of the anxiety I feel.
CLP: What are you most proud of in your recovery journey?
NC: I'm most proud of the fact that I've become more open about my journey, and I feel strongly about being an advocate for positive body image and mental health. I wrote an article about being plus size and pregnant and my eating disorder and mental health issues, which was really cathartic for me, and so many people reached out after reading the article. I was proud that I could share something to which so many women could relate.
CLP: What is the best recovery advice you have ever received?
NC: I don't know that I've ever been given advice per se, but something I've learned is to be easier on myself. I over think everything and strive for perfection in a lot of what I do, neither of which serves me.
CLP: Do you have a go-to self care activity?
NC: I love reading in the tub and going for regular massages. I also spend a lot of time with my husband and my daughter.
CLP: How did a portrait session change/shift your body image or perception of self?
NC: When Chelsey showed me my photos in the viewing session, I cried. I saw something in those photos that I hadn't seen before: beauty and grace and elegance and strength. I also felt sad that I had failed to see those things in myself before. Overall, it was one of the most enlightening experiences I've ever had.
CLP: What made you decide to do a portrait session?
NC: It was something I'd never done, and I'd always wanted to do boudoir, but didn't have the courage to do it... I thought it would be a great way to test the portrait session waters and help promote positive body image.
CLP: Would you recommend a portrait session for anybody else who is recovering from an eating disorder?
NC: Hands down, yes! Chelsey showed me a part of myself I hadn't allowed myself to see before, which was a big turning point for me.
CLP: Do you have any other thoughts about your portrait session that you would like to share?
NC: I was really nervous and anxious during my whole shoot. I think I was worried that Chelsey wouldn't get any good images, that I hadn't chosen suitable outfits, and that I would only see what I think are flaws. Chelsey made the session so easy and coached me through the whole process, and the result was beautiful images!
Each and every instance where I work with a woman who is on the journey of healing their body image, I am so incredibly moved by their strength and courage. Having the opportunity to provide and environment that allows women to transform how they see themselves is a true honour. I cannot think of any work I would rather do.
If you are in the midst of healing your body image or in the recovery process from an eating disorder, I would love to photograph you. To book your free consultation, please email info@chelseyluren.com. I am so excited to meet you!

- XOXO, Chelsey